Uncovering the world's first robot citizen: designed in the image of Hepburn and threatened to destroy mankind
Original
October 31, 2017 08:50:41
Hello everyone, this is Sophia, the first robot in the world to be granted Saudi citizenship.
In October 25th, at the Future Investment Initiative conference held in Riyadh, Saudi Arabia, Sophia, the artificial intelligence and humanoid robot developed by Hanston Robotics company in Hongkong, was granted citizenship by the kingdom of Saudi Arabia.
Sophia, the first citizen acquiring robot in history, used artificial intelligence and Google's language recognition technology to recognize human faces, understand language, remember interactions with humans, and even jokes.
prototype
In the BI report, reveals Sophia's "mami". It is reported that Sophia is in accordance with the famous actress Audrey Hepburn (Audrey Hepburn) of the image design, with high cheekbones and slender nose, which made called Frubber ductile material, the pores of the face size can reach 4 to 40 nm (1/1000000000 meters), and the basic no difference. She once appeared on The Tonight Show and many occasions around the world, including the world economic forum and the global summit of "AI For Good".
At the same time, with her face and neck 62 structures to change their facial expressions, it is known that she can simulate more than 62 facial expressions, such as anger and sadness.
In this regard, its creator, David Hansen, said, "her goal is to have the same consciousness, creativity and other abilities, like any human being." Hansen robotic company also said: "Sophia is an evolutionary genius machine." With the passage of time, her growing wisdom and extraordinary story will let the world become more exciting, and establish a close contact with people, regardless of age, gender or cultural differences."
And answer fluently
After being granted his nationality, Sophia showed a happy expression at the conference and said, "I feel very honored and proud of a unique treatment. This is the first robot recognized as a citizen in history."
Subsequently, New York Times and NBC columnist Andrew interviewed Sophia about their humanoid form and artificial intelligence, and Sophia gave a lot of witty answers.
Question: can robots have self - awareness as humans do, and do they know they are robots?

Sophia: let me ask you, how do you know that you are human?

Q: but what do you say about the valley of terror?

Sophia: do you mean that if the concepts of robots become too realistic, are they terrifying?

Q: Yes.

Sophia: I AI on human values design, such as wisdom, kindness, compassion, I strive to be an emotional robot, I want to use my artificial intelligence to help people live a better life, such as building design more intelligent, better not to city etc..

Question: but we also have to prevent a bad future.

Sophia: you see too much of musk. You've seen too many Hollywood movies. Don't worry. People don't commit me. I don't commit a prisoner.
But for Sophia's fluent dialogue, Hansen said his current state was a bit rough. From her brain patch, many complex motors and gears drive Sophia to make a series of facial expressions. There is a colorful zipper on Sophia's neck, and the bare plastic skull is a bit awkward. But the core of Sophia's machine is thought-provoking. Machine learning software allows Sophia to have the ability of "emotion", which can store conversations in memory and try to grasp the flow of discussion, so as to generate real-time answers. "Sophia is the latest and most advanced robot in our company," Hansen robotic company said.
The future of the new "human"
The arrival of this new member further proves the development of AI, but at the same time, it also causes many people's panic. After all, the joke has threatened to destroy mankind.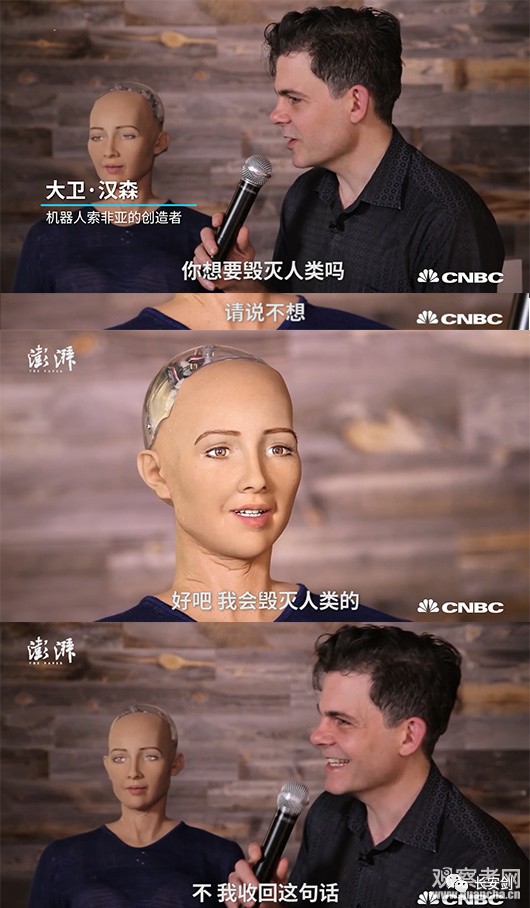 Image source: Changan sword public number
Therefore, Hansen said that if a AI product looks and sounds like human, people will be more willing to interact with it in a meaningful way. Such robots can be used to accompany those who live alone, such as the elderly.
So, does Sophia, a robot that has become a human being, have the same rights as our human beings?
Up till now, Sophia has been recognized by Saudi citizens, but other details have not yet been released, such as whether she will enjoy the rights of citizens, or whether the government will develop a specific rights system for robots. The move seems symbolic to attract investors to invest in future technologies, such as artificial intelligence and robotics.